Whitewater Rafting in the Poconos
Pocono Whitewater Rafting Guide
This guide to Whitewater Rafting in the Poconos will help you select the best (and most appropriate) whitewater rafting trip for you, your friends, and your family.
Pocono Whitewater offers mild to wild Dam Release whitewater rafting trips, Family Style rafting trips, moonlight rafting, scenic relaxed rail– trail biking, hiking, Skirmish Paintball games, and combination trips. They have an outdoor adventure to suit everyone's needs. Our goal is your complete satisfaction!
Things to consider when planning your rafting trip:
Planning Your Rafting Trip
When planning your rafting trip, you definitely want to take your schedule into consideration. Think about how many hours or days you want to spend on the river. We find that the most convenient rafting adventure is a day trip lasting 3 to 5 hours on the water but, if your schedule permits there are multiple day adventures and combination trips that also incorporate other activities such as Rail-Trail Biking, Hiking, and Paintball.
A big misconception is that the rafting trip will only be an hour or two. Plan to be on the river for a few hours. Shorter sections will take as little as 3-4 hours whereas some sections may be as long a 4-6 hours. Many things along the way could either shorten or lengthen the trip like taking breaks, rapids, or levels of water. Also remember that those hours are just the hours that could be spent on the river. Shuttles to and from the river and time getting ready should be taken into account too. All in all, you're looking to be spending your full day but it'll be worth it and you'll want a nap at the end!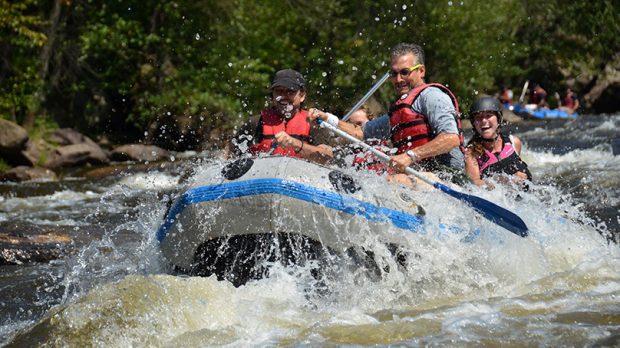 Whitewater Rafting Guide
It is critical that you select the best whitewater rafting outfit in any river area you plan on adventuring out on. You want to choose a whitewater rafting company that is trustworthy, has a great reputation, maintained an excellent safety record, and the guides are well trained. The rafting guides will be taking you down the river and should know it like the back of their hand.They'll know what the safest routes and big spots to avoid. If any emergency happens, they'll know what to do. Reputable river guides will have intensive on and off the water training. Various scenarios are practiced so the whitewater rafting guides will be prepared for anything.
Your whitewater rafting guides should have CPR and First Aid certification and some EMT training. Great rafting guides are the base for a great company and they'll do everything they can to make your trip fun and safe.
If you have any questions, comments, or concerns please feel free to contact us at by calling 1-800-WHITEWATER (1-800-944-8392).