Beginner Rafters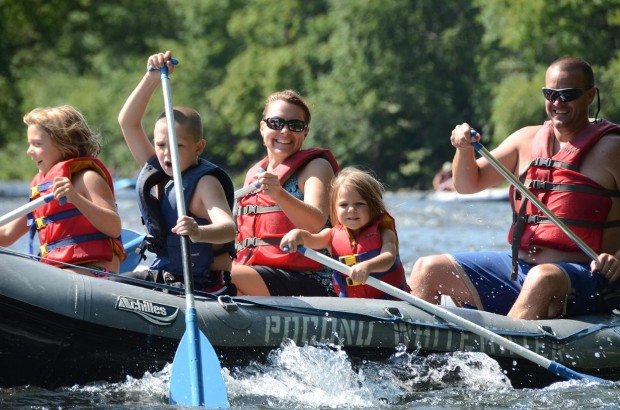 Whitewater Rafting Guide
If you are reading this, you must have heard about this crazy sport called whitewater rafting where people sit in rubber rafts, steer themselves down fast, raging rivers and control where they go by paddles and their own manpower.
If you have never rafted before OR are looking for an easier rafting adventure, you should consider yourself a "beginner rafter".  As a beginner, you want to start on a river that is Class I & II.  This means there will be easy, small waves and drops, and some flat water areas with minimal steering necessary.   Class I and II whitewater rafting trips are ideal for family getaways, scout groups, class trips, and anyone just looking for a relaxing day on the river.  There is no experience necessary on beginner level white waterrafting trips.
If you've never been whitewater rafting before or are looking for a relaxing day on the river, a mild white water section would be perfect. This is what we call "Family Style Whitewater." There's a gentle mix of Class I and II rapids along with floating sections in between. It's a great section for kids as young as 4 years old and people of all physical levels would enjoy this. There are opportunities to swim, float or just lay on your raft and soak in the sun. Ideally, the best times to go are between Memorial Day and Labor Day. The warm summer months make the trip a perfect wet getaway while enjoying the beautiful mountain scenery.
So, now that you are ready to try out the sport of whitewater rafting, we recommend the family style whitewater section of the Lehigh River in Jim Thorpe, PA.  Pocono Whitewater is the area's top outfitter and provides family style rafting adventures daily April through October.  Check out their website for all the details – PoconoWhitewater.com or give them a call at 1-800-WHITEWATER (1-800-944-8392).