Veteran Rafters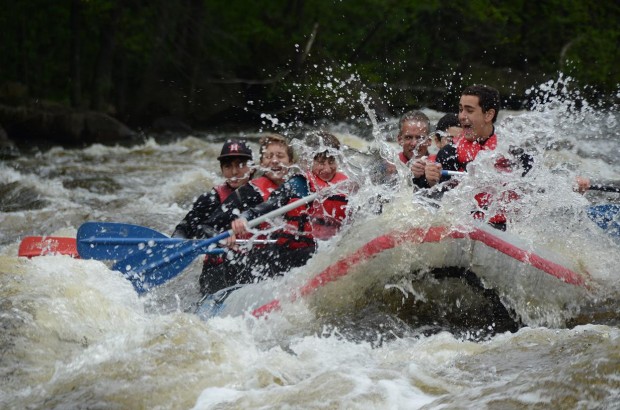 Whitewater Rafting Challenge
Are you the "more adventurous" type?
If your answer is yes, then you're probably ready to jump into a Class III whitewater rafting adventure.   You don't have to be in excellent physical condition to enjoy Class III white water but we suggest that you at least have the energy to spend up to 5 hours paddling in the great outdoors.   Class III white water involves more paddling and awareness than a Class I & II section. You'll definitely get a great workout, have fun, and leave with a big smile on your face.  Class III whitewater offers larger waves, slightly faster current, and some more maneuvering of the raft.  There's still a mix of short floating sections in between each rapid so you can recover before the next one splashes into you.
If this type of white water trip is your style, we recommend a Dam Release Whitewater Rafting Adventure with Pocono Whitewater in the Pocono Mountains of Jim Thorpe, PA.  Pocono Whitewater Rafting is a only a short drive from New York (2 hrs), New Jersey (50-90 minutes), and Philadelphia (90 minutes).  Ages 8 and up are permitted on this dam release, Class III, white water adventure and it is available daily April thur Mid-June, Weekends in July and August, and again daily mid-September through October.  You'll find all of the details on their website at PoconoWhitewater.com
Once you've done all the crazy Class I, II, & III whitewater, you are going to be craving even more.  You'd be surprised what can change on a Class III river with some springtime rain and snow- melt.  Spring & Fall white water rafting offers some of the best whitewater there is. With melting snow and spring/fall rainfall high water and fast moving currents are guaranteeed to thrill even the super adventurous.  The river changes and becomes a whole new experience with waves doubling in size and water splashing from every angle.  Heavy rain can contribute to awesome levels for whitewater and large releases of water from the dam.  We only recommend this adventure someone who is used to physical activity & has prior rafting experience.